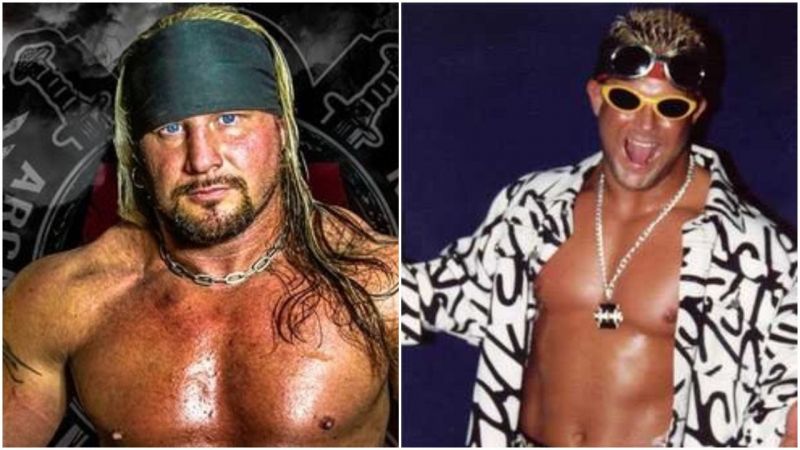 Pro Wrestling Sheet reports that  ex-TNA wrestler Chase Stevens was arrested last month after beating Brian Christopher so badly he needed surgery on his face.
According to the affidavit, Chase — real name Jonathan Ryan Clark — was taken into custody on February 18th in Indiana for battery following an incident that took place at a hotel.
The report states an intoxicated Brian Christopher Lawler — aka Grandmaster Sexay from the tag team Too Cool — entered the lobby bloody with severe injuries described as "swelling all over, an approximate 2-inch laceration to his right brow, orbital eye socket discoloration to both eyes, bleeding from the nose, abrasions and noticeable front tooth dental injuries."
Officers then made contact with Stevens in his hotel room who told police Lawler had caused them problems at nightclubs hours earlier and refused to go to sleep on the floor of the hotel room.
The wrestler then admitted to punching Brian in the face two times, but claimed it was in self defense. He also says Brian fell and hit the ground. Officers noted in the report, "There was visible blood stains on the carpet floor, a small amount of blood smears on the wall and a small amount blood spatter on the sheets. The trash can inside the room had blood and tissue in it as well."
According to the report: "Lawler said he was attacked for no reason but he was very confused. The physician reported that Lawler had several broken bones in his face, broken teeth and that surgery was required. Officers were told that a trauma team had been activated after Lawler's injuries had been evaluated. Lawler was intoxicated on alcohol and admitted he is on several prescription drugs. Lawler told me that he absolutely wanted to pursue charges against Clark."
Chase Stevens was then taken into custody and a witness in the room told police that Brian was drunk/causing a scene and Stevens hit him more than once to "calm Lawler down."
Prior to surgery, Brian Christopher told police that Chase thought he was making an advance on the witness — who is Stevens' girlfriend — but the former WWE star says he didn't.
Sources tell Pro Wrestling Sheet that Lawler was released from the hospital days later. Chase is out of jail as well.
Source: Pro Wrestling Sheet