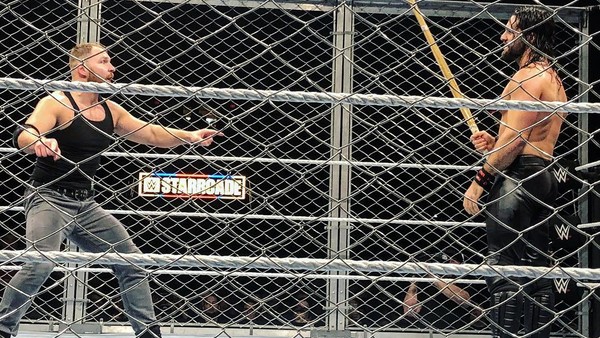 The event, effectively a glorified house show with a stellar name, was taped Saturday night at Cincinnati's U.S. Bank Arena. WWE aired part of it last night as a WWE Network special.
Here are the full results, courtesy of the Wrestling Observer.
The show began with Elias' advertised concert, where he was joined by special guest Ric Flair. Flair was said to have made eyes for most of the women in the front row, which will probably be left out of the Network broadcast. The skit ended with the eight women scheduled for a tag match coming to the ring.
Sasha Banks, Bayley, Ember Moon & Dana Brooke got the better of Nia Jax, Tamina, Alicia Fox, & Mickie James in a short contest, ending with Banks making Fox tap to her Banks Statement. As tends to be the case on house shows, Bayley received a reaction in contrast to her usual television reception.
A super popular Finn Bálor fell to Drew McIntyre's Claymore in a supposedly decent effort. Dolph Ziggler was also there, of course.
The B-Team went over The Revival in the night's first toilet break, before The Barconquered The New Day to keep their grip on the SmackDown Tag Team titles.
An open challenge by an opponent-less Baron Corbin was answered by Bray Wyatt, who beat him in short order. It's Wyatt's first match for the company since September.
Charlotte Flair overcame Asuka in a repeat of their WrestleMania outing. Charlotte, who viciously assaulted Ronda Rousey at last week's Survivor Series, hugged Asuka after the match like a true babyface. What are they doing?
Apparently continuity applies in Rey Mysterio's world, as he appeared on Miz TV wearing a neck brace to sell his attack at the hands of Randy Orton on SmackDown. Shinsuke Nakamura got in Rey's face whilst waxed lyrical about the WCW talent who made Starrcade special to him. Obviously the pair then had a match, which ended in a DQ after The Miz intervened on the US Champ's behalf.
Good ol' Rusev came to Rey's rescue, with a tag match emerging out of the mess. Mysterio and his new partner quickly vanquished Miz and Nakamura.
In the first steel cage match of the night, AJ Styles once more put Samoa Joe in his place. The cage was used again as IC Champion Seth Rollins escaped to defeat bitter rival Dean Ambrose. Apparently, the match was the highlight of the evening, which bodes well for their feud.
Source: What Culture